Mull that one over.

For some reason the Dems tend to be called the Antichrist regularly. As evil as the Bushes (Bushs? Bush's?) seemed to me, I don't recall anyone ever calling them that. But I do recollect Bill Clinton being called that. And our current Commander in Chief also, of course.

I watched Inglorious Basterds last night. Not my fave...I actually thought it was pretty boring for a Tarantino film, but I saw the Hitler character and I turned and said to my husband, "I still can't believe that asshole pulled that off." Hitler, I mean. Think about what he did...he slowly, pragmatically pulled a whole military into a hatred so thick that his soldiers were all willing to kill, kill, kill anything he told them to kill. He pulled the wool over the eyes of civilians all over Europe. Poor Jews. But they weren't the only ones he killed. The homosexuals had a hard path under his rule also. A lot of folks did, I reckon.

It got me thinking...what DOES it take to 'do a Hitler' on a nation?
It probably starts with control over the media. That happens all the time. Google's leaving China over this very issue. Those Bush people said we invaded Iraq partially because of this (don't get me started, don't even get me started). Heavens...it happens here in the United States. Remember how the H1N1 scare happened? It wasn't even real, it turns out. Sure it COULD have happened, but ultimately it was a sensationalized nothing and the media outlets scared the beJesus out of us. Many got the vaccines, but the drug companies couldn't even accommodate demand for the vaccines. They made an epic amount of loot. What if they were pretending there weren't enough vaccines to go around? I'm in marketing, I know what it does when you make a consumer think a product is scarce. They get into an I-gotta-have-it frenzy, worse than a school of Hammerheads around a bleeding surfer. Think about it...what if my beloved NPR has a price? What if...gulp...Google has a price? Can you imagine if our news outlets were submitting their scripts to Obama's administration and getting them approved before they aired the news? Creep-tastic to think about, huh?

It takes a good census to 'Hitler a country.' We all report who we are and what we are to the government. So far the Gestapo hasn't followed up since we submitted our census, so that's cool.

And it takes that sheer, raw evil that flows through Satan's veins to posses a man to do what Hitler did. In my opinion, at least. What else does it take? Post some comments, my people.

I like Obama, and I voted for him, but he sure did go caballero with how he pushed his health care reform through. That was weird, to me. I'm still deciding how I feel about him. It's early yet.

Anyway, next subject: my beautiful paintings. :) Some new ones for your viewing pleasure: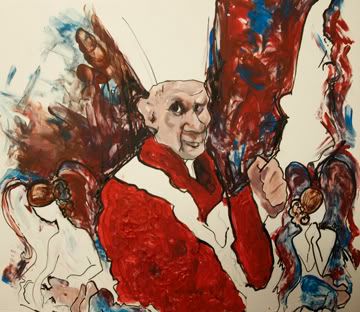 This one's of a catholic priest. I was trying to do a caricature of the current pope, but it didn't end up looking too much like him. I'm SO tired of how the Catholic church responds to their pedophilia. John Stewart said that Dominoes is more sorry about their crappy pizza sauce than the pope is about thousands of little boys being touched up. So you have the priest, and he 's got a little guy curled up on either side of him, with an angel kneeling over each. There's a verse in the Bible where Paul says, "Now to the unmarried and the widows I say: It is good for them to stay unmarried, as I am. But if they cannot control themselves, they should marry, for it is better to marry than to burn with passion." It should say, "than to burn with passion for little boys." I'm one of those people who thinks that the priests should choose whether or not they are celibate. If I were Catholic I wouldn't care about having a virgin priest, but you bet your bottom dollar that I would want a priest who I could trust to not touch my son if i left them alone together. These priests are lucky I'm not the mommy of one of the boys they molested, they would be seeing a mean side of this momma bear.

Next is one I painted for an art show I missed the deadline for. There's a gorgeous little park here in Carmichael called Effie Yeaw...they protect lions and tigers and bears there. Just joking, the animals they protect are turkeys and deer and these silly, fuzzy grey squirrels. The park is low on funds and they may have to close it, so a gallery in Sacramento is having an art show to benefit the park. I sat by the American River and painted this landscape, but the deadline for the show had already passed. Ultimately I gave it to my ma-in-law for Mother's Day.