A couple weekends ago I got to participate in a community art event hosted by ZAP Creative Group...they work with the Children's Hospital Miracle Network and a bunch of artists get together and create artwork about a Children's Hospital patient and there's a big auction at the end to raise money. You can go to http://www.paintingformiracles.com/ if you want to learn more or participate next year.
Anyway, my gal's name is Ariana and she's half kid half amazing:
Eleven-year-old Ariana of Laramie, Wyo., has always been a precocious child with a dynamic personality. A stranger once commented, "It's hard to imagine she won't be a movie star." Not that the glamour of Hollywood would fit the personality of a girl who loves karate, barrel racing and archery, and who regards solving math problems as a special treat.
On New Year's Day, the limitless possibilities Ariana and her family hoped for unexpectedly came into question. Complaining of lower back pain, Ariana went to The Children's Hospital for x-rays. They revealed a small amount of hardened tissue, which they hoped was just a minor injury. But the pain soon became excruciating.
After an MRI doctors discovered that the tissue was not an injury but a tumor called Ewing's Sarcoma, an extremely rare and aggressive form of childhood cancer. Ariana quickly went into surgery, but due to the location of the tumor the only further option was chemotherapy.
Arianna is not a quitter. She pushed through a year of treatment, determined to beat cancer and anything that came with it. And she did. By the time school began in 2007 Ariana's cancer was a thing of the past.
Here's what I painted for Ariana!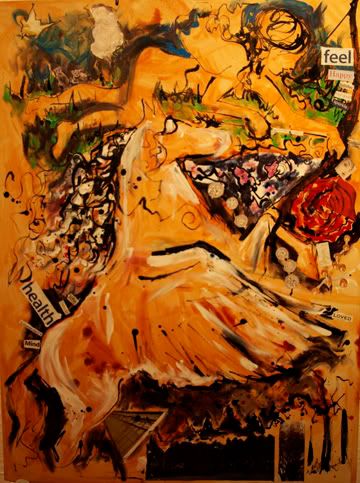 Also...heavier on the heart this week...I've been pondering eternity a lot, getting into the Bible a lot. I've been working on getting in touch with the ancient God Moses and Isaiah knew, the God Jesus was performing his miracle on behalf of. I've been sampling a bunch of different churches and I seem to keep rambling and wandering through, really dissatisfied with our standard, accepted protocol for reaching out to this dynamic, incredible God (i.e. modern religion). Anyway, Jesus described himself as the groom, and promised that someday he'll return for his bride and the two will be one unified body again; we'll all sit at the table and have a rockin' good time at the wedding reception. I started stressing about what kind of shape Jesus' bride is in, and worrying that he might just decide she's not really work coming back for. I painted what she looks like (ass on backwards, morbidly obese, lulled to sleep by the evil spirits of complacency whispering he-hasn't-come-back-maybe-he-never-will. This is what I came up with for a portrait of this bride, I call her The American Church: