I've been painting a lot, and big. I had some crazy soul stirrin' this winter and lots of rainy afternoons to paint. One Sunday afternoon yielded my beautiful nymphs, a triptych in which I tried to capture three different, equally sacred aspects of being a woman: the valiant and daring, the introspective and pondering, and the broken and bowed down. The inky blottiness was an accidental ink well spill that turned out to be a happy mistake, and I love the electric, fluorescent skin color of all of the angels. They're very human but very divine. I've also gotten lots of comments about the voluptuous middle gal...ladies love a full figured model!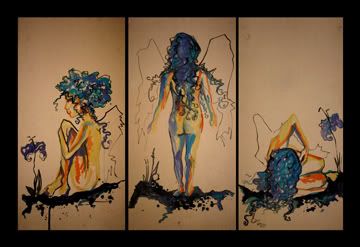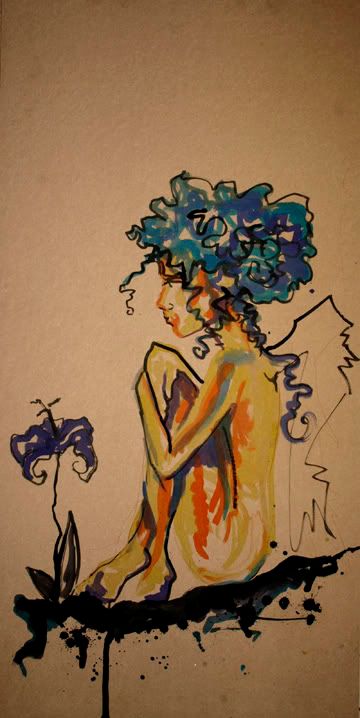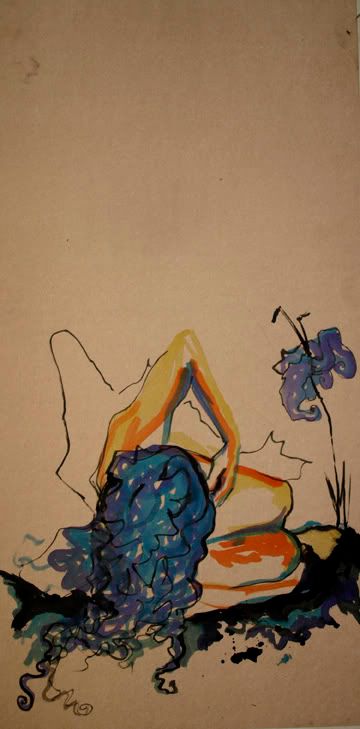 Another painting that I'm really excited about is this life-sized representation of the crucifix. I've been inspired to paint this since I went on my honeymoon and it took about eight months from inspiration to execution. I read a book called A Case for Christ, which is a pretty interesting argument for the gospels being accurate and historical. In that book I read a doctor's commentary on the crucifixion and what Jesus went through during his final moments and the words just came to life for me. I really felt like I understood what he endured. At the time I was reading it from the standpoint where I wasn't sure how to categorize Jesus..just a good guy who had a bad day in court and was sentenced to death? Divine? Supernatural? Emmanuel? I pondered these things but I finally wrapped my mind around what he endured from a human, physical standpoint when I was reading that day. We get the word "excruciating" from the ugly scenes of that day.
The other text I really digested was Isaiah 53:
1 Who has believed our message
and to whom has the arm of the LORD been revealed?
2 He grew up before him like a tender shoot,
and like a root out of dry ground.
He had no beauty or majesty to attract us to him,
nothing in his appearance that we should desire him.
3 He was despised and rejected by men,
a man of sorrows, and familiar with suffering.
Like one from whom men hide their faces
he was despised, and we esteemed him not.
4 Surely he took up our infirmities
and carried our sorrows,
yet we considered him stricken by God,
smitten by him, and afflicted.
5 But he was pierced for our transgressions,
he was crushed for our iniquities;
the punishment that brought us peace was upon him,
and by his wounds we are healed.
6 We all, like sheep, have gone astray,
each of us has turned to his own way;
and the LORD has laid on him
the iniquity of us all.
7 He was oppressed and afflicted,
yet he did not open his mouth;
he was led like a lamb to the slaughter,
and as a sheep before her shearers is silent,
so he did not open his mouth.
8 By oppression [a] and judgment he was taken away.
And who can speak of his descendants?
For he was cut off from the land of the living;
for the transgression of my people he was stricken. [b]
9 He was assigned a grave with the wicked,
and with the rich in his death,
though he had done no violence,
nor was any deceit in his mouth.
10 Yet it was the LORD's will to crush him and cause him to suffer,
and though the LORD makes [c] his life a guilt offering,
he will see his offspring and prolong his days,
and the will of the LORD will prosper in his hand.
11 After the suffering of his soul,
he will see the light of life [d] and be satisfied [e] ;
by his knowledge [f] my righteous servant will justify many,
and he will bear their iniquities.
12 Therefore I will give him a portion among the great, [g]
and he will divide the spoils with the strong, [h]
because he poured out his life unto death,
and was numbered with the transgressors.
For he bore the sin of many,
and made intercession for the transgressors.
What I love about this passage is that it was written about 700 years before Jesus was ever born. There were hundreds of prophesies he fulfilled. It was like the whole story came together into one unified, resounding expression of God's love...woven throughout time, and it culminated and made sense to me the day this painting fell onto my heart. It's hard to get a picture of, it because it's so ginormous, but here is the painting I call "Isaiah 53."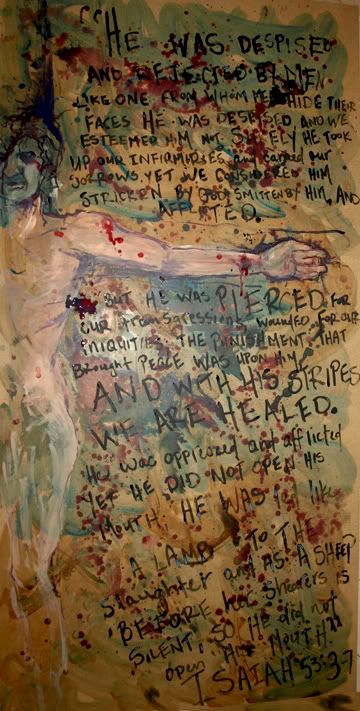 Finally, this one goes with the last painting I posted about the bride of Christ. It's another study about the many different faces and aspects of the bride of Christ. It's like a waiting place, it's where we all are. I added a bunch of different verses about God's bride, "I saw the Holy City, the new Jerusalem, coming down from God out of heaven, it was a glorious sight beautiful as a bride on her wedding."
"Come with me and I will show you the bride, the Lamb's wife."
"Bring together everyone - the elders, the children, and even the babies. Call the bridegroom from his quarters and the bride from her privacy."
And so on. This is called "Go and Find my Beautiful Bride."