I feel like I'm going through the five stages of grief over my maternity leave ending. I've greeted my first son, a big-eyed, beautiful bobblehead and I'm smitten with everything he does. Teensy hiccups, long toes, fuzzy skin, a chin that quivers when he cries. Even while I was pregnant, though, I learned that every mother bears her baby into this world and then hears the inevitable tune of letting go. It's a new emotion, the love I feel for him. The intensity of the worry I can feel brings me to my knees, chest tight, or sends me to his room so I can place my palms on the edge of his crib and watch him dream. God has gently showed me that Liam is His baby, ultimately, and I'm the lucky girl who gets to love and protect him for now. It's like having the most gorgeous rose on my palm and every time I try to close my fingers around him I get a swift prick and a sweet, gentle voice reminds me Liam was never mine, he's the son of a king far better than me. Here's the first portrait I've done of Liam, probably the first of hundreds, God willing.
Also, back to the bride theme...I had these paintings on the ticker for a long time before I completed them. It takes a little more diligence as an artist when my attention is broken by baby meals and tummy time. I looked at wedding pictures of a couple of girlfriends and myself and really soaked in Revelation 21 when I painted this triptych. I'm sorry the images are a bit blurry...I wish I had a phattie scanner. The paintings are about the beautiful bride, ready and waiting for her groom.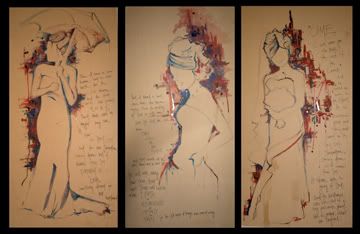 The handwriting says:
Then I saw a new heaven and a new earth, for the first heaven and the first earth had passed away, and there was no longer any sea. I saw the Holy City, the new Jerusalem, coming down out of heaven from God, prepared as a bride beautifully dressed for her husband. And I heard a loud voice from the throne saying, "Now the dwelling of God is with men, and he will live with them. They will be his people, and God himself will be with them and be their God. He will wipe every tear from their eyes. There will be no more death or mourning or crying or pain, for the old order of things has passed away."
"I am making everything new! Write this down, for these words are trustworthy and true." "Come, I will show you the bride, the wife of the Lamb." And he carried me away in the Spirit to a mountain great and high, and showed me the Holy City, Jerusalem, coming down out of heaven from God. It shone with the glory of God, and its brilliance was like that of a very precious jewel, like a jasper, clear as crystal.